Executive Director of Twin Pines Cooperative Foundation honored at Philanthropy Day Celebration
Executive Director of Twin Pines Cooperative Foundation honored at Philanthropy Day Celebration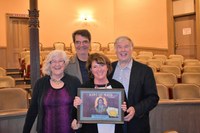 Cathy receiving her award from Board members
At the recent annual Woodland, CA event organized by Yolo Community Foundation, Cathy Murnighan, the Executive Director of Twin Pines Cooperative Foundation (TPCF) was presented with a 'Certificate of Achievement' by TPCF's president David J Thompson.  In addition, Cathy was presented with an over 100 year old original Sunkist cooperative packing art piece.
Cathy has been the Executive Director of Twin Pines Cooperative Foundation for 21 years and has managed millions of dollars of grants that TPCF has made or received. Cathy was presented with the Certificate, because of all the projects that TPCF has managed, none have been as complex and detailed as being the fiscal sponsor for the One Farm at a Time program.
In November, One Farm at a Time celebrated the more than a decade long effort to purchase an innovative agricultural conservation easement through Equity Trust that preserves Good Humus Produce, a local Yolo County farm owned by Annie and Jeff Main. This One Farm at Time preservation was achieved by a team that included the Sacramento Natural Foods Co-op, the Davis Food Co-op, Farmlink, Tuleyome and other groups. Good Humus Produce is the first California farm preserved by cooperatives.
Over an eight year period, Cathy managed thousands of transactions from one dollar to $50,000 dollars that raised almost $400,000 dollars for One Farm at a Time. On behalf of TPCF, Cathy managed four different grants for the project that totaled close to $100,000.  The four grantors to whom we are most grateful are; Orchard Family Fund, Columbia Foundation, Clif Bar Family Foundation and the Yolo Federal Credit Union. Cathy also played a key role in the success of an IndieGoGo campaign that raised over $50,000 dollars from the nationwide co-op community towards making a film about the project called "The Last Crop".
Accompanying David in the Woodland presentation were two other TPCF board members; Marcelo Campos and Ann McCandless. The Cooperator in Chief of the Sacramento Natural Foods Co-op, Dan Arnett, had hoped to be there but due to the air quality from the Camp Fire he could not attend.
 At the event, six Yolo County nonprofits honored either a staff person or volunteer.