Ashland Food Co-op CCF
Ashland Food Co-op
Nestled in the beautiful Rogue Valley in southern Oregon, Ashland Food Cooperative has a long history of bringing healthy, organic food to the community of Ashland.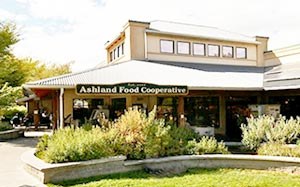 Our co-op started as a buying club in 1971, and has grown into a well-respected, deeply loved full-service cooperative grocery with more than 5,000 owners.
We're dedicated to providing the best customer service and highest quality foods in the region. We wholeheartedly support the local economy and our area's growers and producers. We also provide a unique selection of high quality and organic gourmet specialty foods, and wines and beers sourced from around the corner to around the world.
Community is at the heart of our mission. We give back every year through our Community Grants program, awarding yearly grants of up to $1500 to local non-profit organizations. Our Basic Pricing program consists of nearly 100 products that make whole, healthy foods affordable to everyone. We are charter members of the Ashland Green Business Program and Ashland Renewable Pioneers, serving as an example of what is possible in our community.
Education plays a huge part of our mission as well. Our Community Oven culinary and wellness program provides cooking classes, in-store culinary demonstrations, and wellness lectures. Community Oven also includes a free Pantry Basics class for owners to introduce them to simple menu planning and basic cooking using whole, organic foods.
237 N. First Street,
Ashland OR 97520
541-482-2237
Fax 541-488-0470