North Coast Cooperative Community Fund
North Coast Co-0p
The only certified organic grocery store on the North Coast.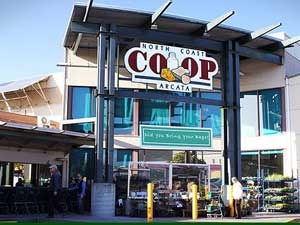 About the CCF
The Co-op established a fund in 1990 to provide financial support to the agricultural, artistic, athletic and educational endeavors of the local community. The Fund is administered through Humboldt Area Foundation. The goal was to build the Fund until the interest alone covers 100% of the Co-op's annual community donations.
The Fund started with a modest $1,000, but thanks to contributions over the years—especially from Co-op owners—the Fund has increased to a collection of two funds totaling a little over $600,000. The funds grew thanks to the generosity of the Co-op members, employees, and shoppers. For more information, contact Bella Waters, CCF Liaison at 707.382.3109.
How is CCF Funded?
Contributions to CCF come from a variety of sources, such as tax deductible cash donations sent directly to CCF (PO Box 750, Arcata, CA 95518), shoppers rounding up their purchases to the next whole dollar at the register, Co-op Fair Share members donating their patronage refund, income from each ten cent paper bag sale and member-owners have the option of donating their investment to CCF rather than receiving a check.   
How does CCF support the Community? CCF is an endowment fund where the fund's appreciation/earnings are gifted to local non-profit organizations. Co-op employees, members, and shoppers for the past 25 years have given donations directly to CCF to build the endowment, which in turn enables the Fund to underwrite local projects. The funds are distributed as mini-grant awards and special community projects each year.
In developing the grant program, CCF's goal was to award projects that fulfill its mission and meet one of three focus areas. CCF's Mission Statement reads:
"The Cooperative Community Fund (CCF) is a permanent endowment established and directed by members of the North Coast Cooperative, which awards grants to support projects and the work of community organizations in Humboldt County. Through collaborative grant making the Fund seeks to strengthen the community by emphasizing projects and activities that promote democratic cooperative principles, community development and food security."
The three focus areas that CCF is currently funding are:
Sustainable Agriculture
Food Security*
Food Nutrition and Education
* Food security is defined as access to a safe supply of quality food to all aspects of a community.
The Fund also helps to support the Co-op's Pumpkin Patch program. This program works with local farmers to provide over 3,700 students a year an educational field trip to an organic farm where students learn about a variety of topics and can pick out a free pumpkin.
Guidelines to apply for funds are available each September. The deadline to receive proposals for consideration is November 1st.
P.O. Box 750,
Arcata, CA 95518
(707) 677-3164
Fax (707) 826-8666