Hunger Mountain Cooperative Community Fund
Hunger Mountain Co-op
supported by over 7,000 Member-Owners and employs 160 Vermonters.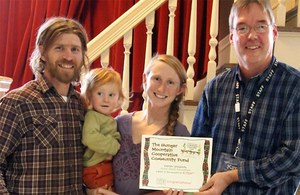 Each year, the Hunger Mountain Cooperative Community Fund (HMCCF) provides financial support to businesses, organizations and initiatives aligned with The Coop's Mission of building a dynamic community of healthy individuals, sustainable local food systems, and thriving cooperative commerce. Past grants have supported local businesses in need of start-up capital, funded construction of key infrastructure projects like community kitchens, and encouraged local activism on food-related issues in central Vermont.

HMCCF has grown steadily thanks to generous donations from The Coop's Member-Owners and through partnerships with Twin Pines Cooperative Community Fund and the Vermont Sustainable Jobs Fund. This past year, Hunger Mountain Coop awarded a total of $10,000 in grants to nine recipients.
623 Stone Cutters Way,
Montpelier, VT 05602
(802) 223-8000
Fax (802) 22300297